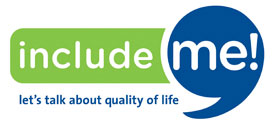 Hi all
Joel and I had a great discussion with the team at CLBC responsible for IncludeMe. We received our package with the data of our results and are happy to report that on the quality of life domains, the people we support are happy and healthy. We are really proud that we improved on almost all of our results from our last (2013-14) survey.
Here are the results of our 2019 survey:
For more information about IncludeMe! check out the link here.